Shopsy: a simple retail solution and fiscal cash register
Designed for small retailers and businesses, and all those who need a comprehensive overview of orders, sales and inventory by using only one tool. Shopsy is more than a fiscal cash register, as it provides an overview of all commercial transactions. Easy to use, low monthly costs.
Upgrade your business today!
60-day free trial

Recommend Shopsy
Refer a friend and you both receive a € 10 voucher:
- Register by clicking on the button below: 30-day free trial ↓
- Enter the number of the customer who referred you in the "referral code" field
- Subscribe to Shopsy
- More info ...
60-day free trial

Shopsy and Minimax
We have developed an add-on which enables an automatic data transfer to Minimax finances from the Shopsy back office. With a few short steps, you can easily connect Shopsy to Minimax program used by your accounting department or accounting service provider. More info ...
60-day free trial
Safe and economic cloud storage
Your business data is securely stored, properly archived, and most importantly, accessible wherever and whenever you need it.
iOS, Android, Windows
The choice is yours! Shopsy cash register is available for virtually all devices. Your only task is to choose the one that suits you best.
Retail that fits like a glove
A modern business solution for anyone who needs a simple and user-friendly solution for selling goods and services. What you sell is your business, how you sell it – that is our business.
Track your performance
Turn raw figures into useful business information. Let your business decisions be based on tangible and reliable information.
Shopsy back office
Everything you need for an easy overview of your business. Manage all data, documents, users and rights centrally:
Comprehensive overview of sales and business management
Integration with the most widespread accounting programs
Easy management of basic data (items, prices ...)
Add-ins for sps, such as: inventory management and calculation of price differentials, linking to financial and accounting systems, customer orders calendar, XLS data import, support for retail scales ...
More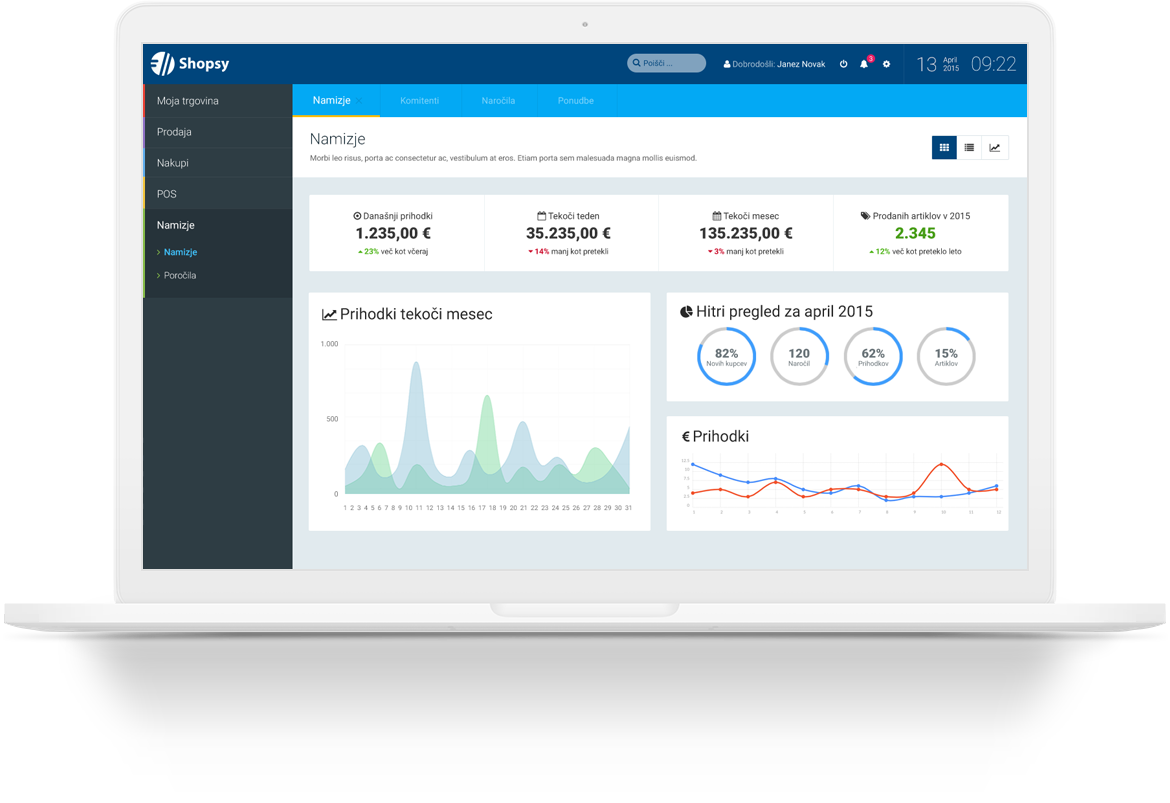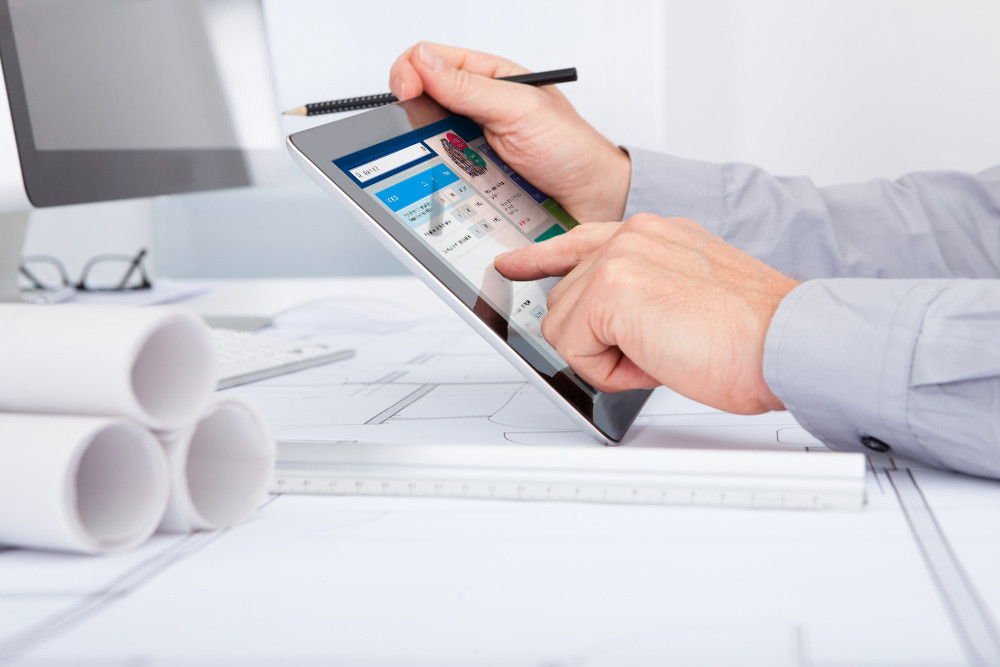 Shopsy fiscal cash register
The Shopsy fiscal cash register app is easy to use. It is suitable for trade in goods and services. It gives you complete mobility, as you can use it on your phone, tablet or computer:
Linked to the central information system of the Financial Administration of the Republic of Slovenia
One solution for all platforms (WIN, ANDROID, iOS)
Touch screen support
Supported payments: cash, cards, vouchers, shared payments, transaction account
Design the look of the cash register to fit your own wishes
Send invoice by e-mail
More
A modern business solution for everyone
My company mainly manages the sale of artist merch at concerts. We regularly collaborate with various music artists performing in Slovenia (Laibach, Eros Ramazzoti, Mark Knopfler, Tom Jones, Sting, Lenny Kravitz, Disney on Ice, Soy Luna, Enrique Iglesias, Scorpions, Bryan Adams, etc.).
We are very happy with Shopsy tax cash registers! Mainly because they are user-friendly. We mostly work with students who are often hired for only one event. Even without any previous experience with cash registers, they quickly learn how to use Shopsy.
Gregor Musa (Musa d.o.o.)
We needed a simple but suitable solution for selling street food at the Open Kitchen (Odprta Kuhna) in Ljubljana. We are really satisfied with the Shopsy system, because it is easy to use, and RCL also provided the equipment that we needed for street vending (tablet computer, printer, stand and cash register drawer). When issues occurred, their assistance was quick and effective.
Ema and Tomaž Bratovž
CEO & Founder - Restavracija JB
For the afternoon shift, we needed a simple cash register for casual shoppers. With the Shopsy system we got exactly what we needed, and even less skilled users quickly mastered it. Although it's easy to use, the system supports all the functionalities we need.
We are thankful for this wonderful tax cash register program. So great, yet so simple.
CEO& Founder - Ilustracije, Polona Pačnik s.p.
When tax cash registers were required by law, we were looking for a solution that would both update and simplify our system for ticket sale for the Ljubljana flea market. In addition to secure and automatic archiving (boxes of ticket stubs are now a thing of the past), Shopsy also enables an easier overview of our operations. Exporting reports for accounting services has been made faster and easier.
The Shopsy cash register app makes your work quick and easy. It is suitable for use at open points of sale, such as our stand at the DM Run for women. It enables secure data storage and transparent business operations, making it the perfect solution for companies which use mobile cash registers.
We are not the only ones...
… ki smo ponosni in zadovoljni uporabniki Shopsy rešitve